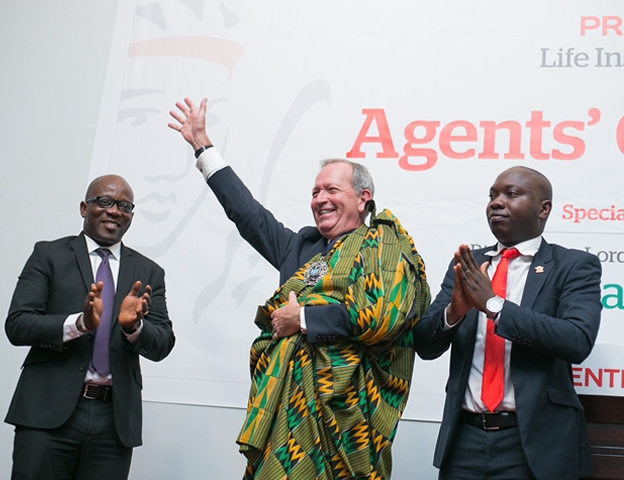 The Prudential Mutual Assurance, Investment and Loan Association was founded in London in 1848. The first annual report clearly stated the company's business: to 'infix habits of Prudence among many individuals'. The figure of Prudence was adopted as a symbol to be used on the first company seal and to represent the values of the business. To this day she still carries her arrow, signifying strength of purpose; serpent, the ancient symbol of wisdom; and mirror, representing self-awareness.
In 1854 the company opened its Industrial Branch to sell a new type of insurance, Industrial Insurance, to the working classes for premiums of a penny and upwards. These policies were known as 'penny policies'. The company also introduced agents or 'men from the Pru' to provide a door-to-door service, and as a result, Prudential's business experienced phenomenal growth. By 1898 Prudential had become the leading UK life assurance company, with £30million in accumulated funds, and by 1914, one in three British households had a policy with the Pru.
During the 1920s Prudential began to expand across the globe. The first overseas life branch was established in India in 1923, with the first policy being sold to a tea planter in Assam. The business soon covered the whole of the subcontinent, with offices in Bombay, Burma, Calcutta, Ceylon and Delhi. Prudential began operations in Malaya in 1924 and in 1931 a branch was established in Singapore. By 1939, new net business in the overseas life branches had reached £8 million, rivalling the success of the UK business.
Prudential's international business continued to grow rapidly through the latter part of the 20th century, and Prudential Corporation Asia was established in 1994 in recognition of the high potential for growth in Asia. The regional head office in Hong Kong set out to expand operations beyond Malaysia, Singapore and Hong Kong. Businesses were soon established in Indonesia, Thailand, Vietnam and the Philippines. In 2000 Prudential became the first UK life insurer to enter the Mainland China market through its joint venture with CITIC Group. Today, Prudential is a leading life insurer in Asia, and EastspringInvestments is one of the region's leading fund managers.
In more recent years, Prudential has entered the fast-growing African life insurance industry and now has operations in markets including Ghana, Kenya, Uganda, Zambia and Nigeria.
Prudential demerged its UK and Europe business, M&GPrudential, in 2019 and its US business, Jackson, in 2021, in order to focus on its Asia and Africa businesses.
Today, Prudential plc provides life and health insurance and asset management, with a focus on Asia and Africa. We help people get the most out of life, by making healthcare affordable and accessible and by promoting financial inclusion. We protect people's wealth, help them grow their assets, and empower them to save for their goals.